Sunday, July 25, 2010
And the winner is...
The winner of the "Cascadian FarmVille Fan" prize pack is... Java F.!!

Stay tuned for more giveaways!! :-)


Friday, July 23, 2010
There's a word for diarrhea of the mouth!!
Scarily enough, the word even LOOKS like the word "diarrhea": logorrhea. It sounds like something a lumberjack would experience, doesn't it? Anyways, here's what Wikipedia has to say:


"In linguistics and editing, logorrhoea or logorrhea... is an excessive flow of words. The spoken form of logorrhoea (other than in the medical sense) is a kind of verbosity which uses superfluous (or fancy) words to disguise an otherwise useless message as useful or intellectual. Logorrhoea is also known as "verbal diarrhea"."


http://en.wikipedia.org/wiki/Logorrhoea_(linguistics)

I can't wait to whip THAT out on my lesser half. ;-)


Monday, July 19, 2010
Cascadian Farm giveaway
The fine folks at Cascadian Farm and MyBlogSpark sent me the following:


"Are you a fan of FarmVille? Then hop on your tractor (or the Internet) and join in Cascadian Farm´s newest FarmVille initiative to help make a positive change for a healthier earth!

Cascadian Farm, a pioneer in the organic food industry, is blazing yet another new trail as they become the first official branded - and organic - crop to be offered in Zynga´s popular online game, FarmVille. Joining forces, Cascadian Farm and Zynga will provide an innovative gaming experience for FarmVille fans, breathing virtual life into real world organic farming within the largest online agricultural space.

Beginning July 19 through July 26, Cascadian Farm will provide FarmVille players with a variety of benefits including, coupon offers, organic farming and green living tips, as well as the opportunity to build up their farm quickly. During the week-long partnership, branded Cascadian Farm organic blueberry crops will be the most profitable FarmVille crop offered in the game, to beginner and expert FarmVille players.

The brand has also recreated the real Cascadian Farm, located in the Upper Skagit Valley of Washington's North Cascade Mountains. The virtual Cascadian Farm will carry out the brand´s mission to grow good and honest food by encouraging FarmVille users to harvest crops that are free from synthetic fertilizers and pesticides. All of their online fruits and vegetables will be planted with the same ideals and values found in organic culture, while also sharing the rewards from playing the game with Cascadian Farm´s online fan base.

To further connect with other FarmVille users, Cascadian Farm has created an avatar farmer called "Farmer Joe Cascadian," who was inspired by the brand´s real-life farmers. "Farmer Joe" will serve as the "virtual" tender to the brand´s own FarmVille farm and users can request to be his neighbor by "friend-ing" him online at

www.facebook.com/farmerjoecascadian

and by using the FarmVille application to become his neighbor in-game.

For more information, please visit

www.cascadianfarm.com "


They also sent me a "Cascadian FarmVille Fan" prize pack that includes Cascadian Farm Fruit & Nut Granola and Harvest Berry Chewy Granola Bars (and that's some SERIOUSLY tasty stuff, I had to fight my husband for it), a Cascadian Farm coupon for a free product, and a game card containing FarmVille currency. They also provided me with an additional prize pack to give away to one of YOU!! The person who sends me the best essay on why they want to eat organic foods will win; I'll post the winner in a few days.


Sunday, July 11, 2010
I AM THE RACCOON WHISPERER!!
NB: PLEASE don't use the following description as a suggestion of something that YOU might try. Wild animals are dangerous and unpredictable, and even small ones have sharp teeth and claws that they can use without warning. An adult raccoon is a powerful animal, and many of them have had bad experiences with humans who want to be rid of them. Most importantly of all: any mammal can carry rabies, even one that seems to be healthy. Just because I'M able to interact safely with wild animals doesn't mean that YOU can. Please admire wild animals from a safe distance!!


The female raccoon that has been visiting us for some time now, and was coming every night when she was clearly nursing, had started visiting more sporadically; she was starving when she came, so she hadn't found better pickings... we assume the babies are so active now that she doesn't dare leave them for long, and we're not that close to her den.

Tonight, she came and started shoving food in her mouth with both paws, literally. It had seemed like there was still a decent amount of food, but at the rate she was eating she was quickly down to crumbs. I had gotten right up to the screen door to talk to her, and she was about a foot away, and showing no fear, so I thought maybe if I showed her that I had food she'd let me open the door and give her some. I got a handful of kibble and held it up to the screen; she came right over and sniffed, and then tried to reach out with her paw a couple of times and was baffled by the screen. I reached up to ease open the door, and belatedly remembered that it had gotten so out of whack that it has required some real effort even by my husband to open it over the past month or so... and it's a noisy process. I didn't ask God for help, although I should have, but He was watching, ready to assist both me and the hungry coon, because when I made my first attempt to open the door it moved easily and soundlessly; the raccoon watched with interest but no fear as I slowly extended a handful of food. She came forward, sniffed my hand, and reached out and took some kibble!!!!!!!!!!!!!!!!!!!!!!!

She started eating from my hand with her mouth, and when she'd gotten most of it I tipped the remainder out, mindful that she might not grasp where the food ends and the hand begins, and raccoon teeth are SHARP. She could see very clearly that there was no more food in my hand, but she reached out her paw and touched my fingers several times!!!!!!!!!!!!!!!

We did several more rounds of this, with her using her mouth or paws apparently at random to take food from me and then feeling my hand even when there was no food in it and plenty on the ground. Coons are highly intelligent and curious creatures, and she was absolutely checking me out; even when I pulled my hand back, she reached past the doorway to touch my hand some more.

!!!!!!!!!!!!!!!!!!!!!!!!!!!!!!!!!!!!

I can't tell you what a magical experience this was.


Friday, July 02, 2010
Are babies born with a moral sense?
It seems that the answer may be YES:


"Not long ago, a team of researchers watched a 1-year-old boy take justice into his own hands. The boy had just seen a puppet show in which one puppet played with a ball while interacting with two other puppets. The center puppet would slide the ball to the puppet on the right, who would pass it back. And the center puppet would slide the ball to the puppet on the left . . . who would run away with it. Then the two puppets on the ends were brought down from the stage and set before the toddler. Each was placed next to a pile of treats. At this point, the toddler was asked to take a treat away from one puppet. Like most children in this situation, the boy took it from the pile of the "naughty" one. But this punishment wasn't enough — he then leaned over and smacked the puppet in the head."

!!!!!!!!!!!!

"A growing body of evidence, though, suggests that humans do have a rudimentary moral sense from the very start of life. With the help of well-designed experiments, you can see glimmers of moral thought, moral judgment and moral feeling even in the first year of life. Some sense of good and evil seems to be bred in the bone."

"...6- and 10-month-old infants overwhelmingly preferred the helpful individual to the hindering individual. This wasn't a subtle statistical trend; just about all the babies reached for the good guy."


There's lots more; give it a read, and be sure to watch the video:

http://www.nytimes.com/2010/05/09/magazine/09babies-t.html?_r=1&pagewanted=1&emc=eta1


who is online counter
blog counter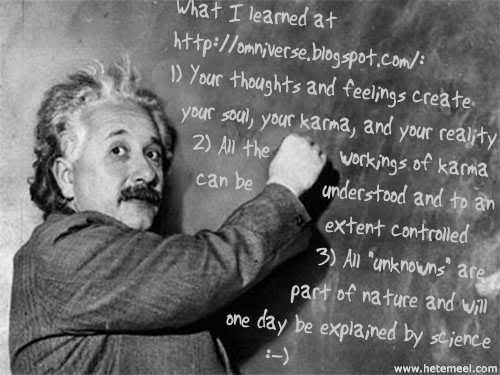 Navigation by WebRing.

Google